Pillow
Billow Kapok Pillow
$180
Included with each Billow pillow is a luxurious and organic count sateen cotton and machine washable "Billow case".
Each Billow pillow is hand made with love and care.
Please allow 1-2 weeks for production and delivery  of your order.
Shipping and handling in the contiguous US are free.
Contact us for wholesale and international shipping inquiries.
Billow Case
$40 + Shipping
These custom fitted machine washable Billow Cases are the same cases that came with your original Billow.
Purchase an additional Billow Case for when yours is in the wash.
The Billow kapok pillow is made from a blend of USDA and OEKO-TEX certified organic cotton and kapok. Kapok is a vegetable down and often referred to as "silk cotton".  Kapok is a soft, silky and all natural fiber with a similar feel to a down pillow.

The Billow kapok pillow is filled with kapok that is naturally harvested from the seed pods that are dropped from the Ceiba trees in tropical rain forest regions.  This helps to preserve the life of the tree and encourage the local economies of the indigenous people.

The Billow kapok pillow is cruelty-free and not treated with chemical pesticides or synthetic fertilizers.  It is also a compostable and biodegradable resource that reduces waste.  As kapok is not treated for flammability, it is best to use precaution if burning candles or incense close to any bedding or pillows made with kapok.

Natural fiber pillows may compress over time, but will remain comfortable and supportive.  Kapok pillows in general may compress and have a warmer feel than natural wool.  However, a Billow filled with kapok will maintain its shape due to its overall segmented construction.

The Billow is ideal for surgery recovery, massage support and daily rest.

If you would like an organic wool Billow, please click here.
Scroll over the purple dots for details
Embrace
The Billow pillow keeps your torso raised and slightly elevated without compromising sensitive breasts and stomachs post surgery.  This position is beneficial for patients who have breast surgery including mastectomy, reconstruction, augmentation or reduction, cardio thoracic, facial and abdominal surgery.  Lying in this position also helps to reduce snoring and sleep apnea.
The Billow roll pillow may be used to provide extra support behind the neck in this position.
Side Relief
Billow provides support to the neck and shoulder while lying on your side. The Billow roll pillow can add extra comfort between the breasts or stomach while in this position.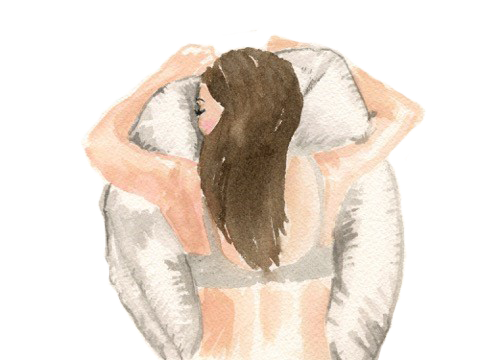 Blissful Breasts
The Billow pillow provides breast, under arm, neck and lower back support for those with extreme sensitivity in those areas. This position provides maximum comfort while lying on your stomach or getting a massage and is perfect for post surgery, nursing moms, or anyone who has larger breasts or needs extra back support while lying on their stomach.