Billow is a luxurious and functional pillow that provides relief and comfort to women who have breast discomfort resulting from surgery, nursing and breast size.
Billow is carefully and strategically designed for perfect breast, back, under arm and neck support.
The Billow pillow is made in the USA of organic, chemical and cruelty-free materials.
Although you may use your Billow how you see fit, these Billow pillow positions are proven to alleviate stress and pain.
Embrace
Billow keeps your torso raised and slightly elevated without compromising sensitive breasts and stomachs post surgery.
Side Relief
Billow provides support to the neck and shoulder while lying on your side.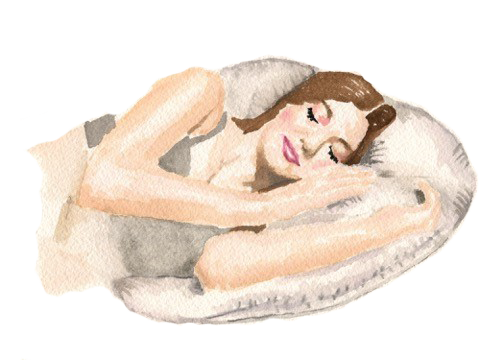 Blissful Breasts
Billow provides breast, under arm, neck and lower back support. This position provides maximum comfort while lying on your stomach or getting a massage.
Billow Pillow
$230
Each Billow comes with luxurious high thread count sateen cotton and machine washable "Billow case". Shipping and Handling of the Billow is included.
Billow Case
$35 + Shipping
These custom fitted machine washable Billow Cases are the same custom made cases that came with your original Billow.
talk
"My Billow is fabulous! My stomach is still a little sore from my recent surgery so I wasn't able to lie all night, but lying on my stomach for an extended period of time was fabulous. You have designed an absolutely wonderful product!"
"I tried the Billow at our Advanced Breast Cancer Group at the Cancer Support Community in Bridgewater, NJ. Stage IV, for 12 1/2 years, in treatment continuously for all this time. Due to mets, surgery, and instrumentation I have not been able to sleep on my stomach – which had been my favored position. When I tried the Billow today, 2/4, I was actually able to lie on my stomach and turn my head! Yippee! Amazing how the littlest things become so magnificent. Thanks for the support, both literally and figuratively."
"Fabulous! I received a massage today and used the Billow and it was awesome."
"Another success story! Used the Billow for a nursing mom in her massage session a few days ago and she loved it – it brought her a lot of relief."
"Through training for the half ironman my back took a beating. Sleeping with Billow enabled me to rest comfortably and soothed my back aches. I will never sleep with out it again!"
"It is so comfortable and fabulous and I will continue recommending it to patients and friends."
"The Billow was a hit. She said it was very comfortable. She is planning on getting pregnant again and thinks it will be very helpful."
"As a licensed massage therapist, I am so excited to introduce the Billow to my clients. I have received wonderful feedback from my clients! Not only is this product helpful for breast cancer patients, it is a must-have for performing massage on large-breasted women. Yes! They are finally lying comfortably on their stomachs!! I have found it to be very beneficial for male clients as well. In fact, it provides support for the lower back and allows for a much more comfortable surface for all of my clients."
"Just writing to say that I love my Billow. I bought it because I had a double mastectomy (and will continue to use it after, I love it that much)!"